Kia Optima: Outside rearview mirror / Adjusting outside rearview mirror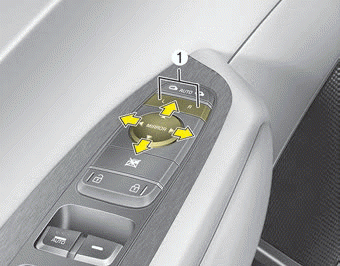 The electric remote control mirror switch allows you to adjust the position of the left and right outside rearview mirrors. To adjust the position of either mirror, press the R or L button (1) to select the right side mirror or the left side mirror, then press a corresponding point (

) on the mirror adjustment control to position the selected mirror up, down, left or right.
After adjustment, press the R or L button again to prevent the inadvertent adjustment.
CAUTION - Outside rearview mirrors
The mirrors stop moving when they reach the maximum adjusting angles, but the motor continues to operate while the switch is pressed. Do not press the switch longer than necessary, as it may damage the motor.
Do not attempt to adjust the outside rearview mirror by hand. Doing so may damage the parts.