Kia Optima: Manual heating and air conditioning / Sunroof inside air recirculation, Fan speed control
Sunroof inside air recirculation
The outside (fresh) air position is automatically selected, when the sunroof is opened.
When you select the recirculated air position, the system maintains the recirculated air position for 3 minutes and then automatically converts to the outside (fresh) air position.
When the sunroof is closed, the air intake position will return to the original position that was selected.
Fan speed control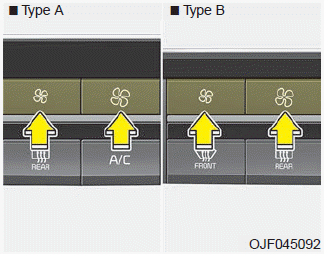 The fan speed can be set to the desired speed by operating the fan speed control buttons.
To change the fan speed, press (

) the button for higher speed, or push (

) the button for lower speed. To turn the fan speed control off, press the front blower OFF button.