If the plastigage shows the clearance is still incorrect, try the next larger or smaller bearing. Recheck the oil clearance.
If the proper clearance cannot be obtained by using the appropriate larger or smaller bearings, replace the crankshaft and start over.
If the marks are indecipherable because of an accumulation of dirt and dust, do not scrub them with a wire brush or scraper. Clean them only with solvent or detergent.
Crankshaft Bore Identification Mark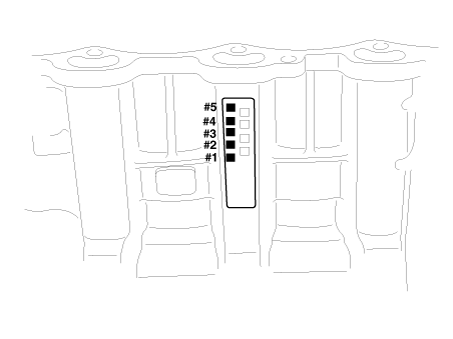 Letters have been stamped on the block as a mark for the size of each of the 5 main journal bores.
Use them, and the numbers or bar stamped on the crank (marks for main journal size), to choose the correct bearings.
Cylinder Block Specifications
Class

Mark

Inside Diameter

a

A

59.000 - 59.006 mm
(2.32283 - 2.32307 in.)

b

B

59.006 - 59.012 mm
(2.32307 - 2.32330 in.)

c

C

59.012 - 59.018 mm
(2.32330 - 2.32354 in.)

Crankshaft Journal Identification Mark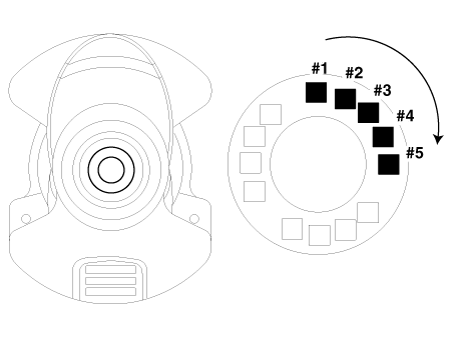 Conform to read stamping order as shown arrow direction from #1.
Crankshaft Specifications
Class

Mark

Outside Diameter Of Journal

I

1

54.954 - 54.960 mm
(2.16354 - 2.16378 in.)

II

2

54.948 - 54.954 mm
(2.16330 - 2.16354 in.)

III

3

54.942 - 54.948 mm
(2.16307 - 2.16330 in.)

Crankshaft Bearing Identification Mark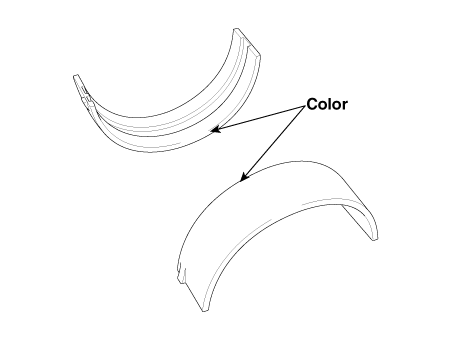 Crankshaft Bearing Specifications
Class

Mark

Thickness Of Bearing

A

Blue

2.021 - 2.024 mm
(0.07957 - 0.07968 in.)

B

Black

2.018 - 2.021 mm
(0.07945 - 0.07957 in.)

C

None

2.015 - 2.018 mm
(0.07933 - 0.07945 in.)

D

Green

2.012 - 2.015 mm
(0.07921 - 0.7933 in.)

E

Yellow

2.009 - 2.012 mm
(0.07909-0.07921 in.)