Kia Optima: Trunk / Emergency trunk safety release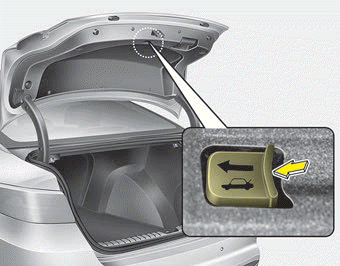 Your vehicle is equipped with an emergency trunk release lever located inside the trunk. If someone is inadvertently locked in the trunk, moving the handle in the direction of the arrow will release the trunk latch mechanism and open the trunk.
WARNING
No one should be allowed to occupy the trunk at any time. The trunk is a very dangerous location in the event of a crash.
Use the release lever for emergencies only. Use extreme caution, especially while the vehicle is in motion.