Kia Optima: Forward Collision-avoidance Assist (FCA) system / FCA sensor (Front View Camera)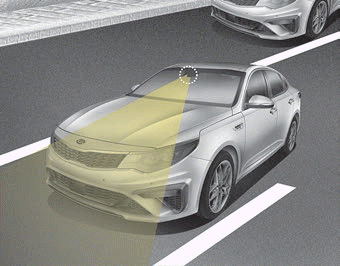 In order for the FCA system to operate properly, always make sure the sensor are clean and free of dirt, snow, and debris.
Dirt, snow, or foreign substances on the sensor of its external parts may adversely affect the sensing performance of the sensor.
✽ NOTICE
Never install any accessories or stickers on the front windshield, or tint the front windshield.
Never place any reflective objects (i.e. white paper, mirror) over the dashboard. Any light reflection may cause a malfunction of the system.
Make sure the frontal camera does not get wet.
Never disassemble the camera assembly, or apply any impact on the camera assembly.
Playing the vehicle audio system at high volume may prevent occupants from hearing the FCA warnings.
Be careful not to apply unnecessary force on the sensor. If the sensor is forcibly moved out of proper alignment, the system may not operate correctly. In this case, a warning message may not be displayed. Have the vehicle inspected by an authorized Kia dealer.
✽ NOTICE
Have the vehicle inspected by an authorized Kia dealer when the windshield glass is replaced.