Kia Optima: Light bulbs / Vanity mirror lamp bulb replacement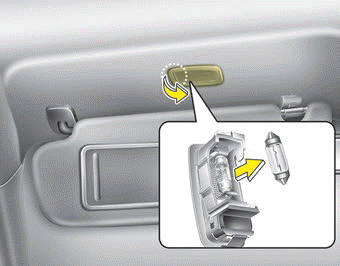 WARNING - Interior lamps
Prior to working on the Interior lamps, ensure that the "OFF" button is pressed to avoid burning your fingers or receiving an electric shock.
1. Using a flat-blade screwdriver, gently pry the lamp assembly from interior.
2. Remove the bulb by pulling it straight out.
3. Install a new bulb in the socket.
4. Install the lamp assembly to interior.
✽ NOTICE
Be careful not to dirty or damage the lens, lens tab, and plastic housings.